Walaupun Malaysia tidak tersenarai dalam Top 10 untuk Miss Universe 2019 yang sedang berlangsung di United States of America, itu tidak mematah semangat kita sama sekali.
Sekurang-kurangnya Malaysia masih boleh berbangga kerana baru sahaja menerima gelaran "Kostum Terbaik" di Miss Universe 2019 yang diumumkan sebentar tadi.
Malaysia menang "Best National Costume" untuk edisi #MissUniverse2019

What a proud achievement
Congrats also MY team and @Shweta_Kaurrr

Walaupun sangat licik ya tunjuk dekat screen costum Filipina #missuniversemalaysia2019 #bestnationalcostume2411:00 AM – Dec 9, 2019Twitter Ads info and privacy20 people are talking about this
Trending di Twitter menyaksikan pengacara Steve Harvey melakukan kesilapan yang sama dilakukan beliau saat mengumumkan pemenang Miss Universe tahun 2015 lepas. Kali ini, Steve mengumumkan nama Filipina sedangkan pemenangnya adalah Malaysia. Mungkin pengacara dah boleh tukar ni..
Cerita Di Sebalik Kostum Kebangsaan Malaysia
Kostum yang disarung oleh Shweta Sekhon ini bertemakan A Peranakan Indulgence (Mendalami Budaya Peranakan) yang diinspirasikan daripada elemen Baba dan Nyonya.
"Kaum Peranakan punya sejarah yang sangat tinggi nilai estetikanya dan ini dapat dilihat menerusi penghasilan seni pakaiannya, maka ini yang kami rancang di peringkat awal.

"Saya gunakan konsep ini dan menggayakan setiap perincian dengan yang melambangkan kepelbagaian di Malaysia termasuk penggunaan kain sarung, songket dan dimasukkan dengan aksesori-aksesori berwarna terang dan semestinya ini melambangkan keraian, " ujar pereka fesyen Carven Ong kepada Astro Awani.
Kostum seberat 28 kilogram ini disiapkan dalam tempoh tiga bulan bagi memastikan bahan yang digunakan tidak membebankan Shweta yang akan menggayakannya.
Kemaskini
Haru-biru Miss Universe 2019 kali ini. Ternyata Kostum Kebangsaan Terbaik menjadi milik Filipina dan bukannya Malaysia seperti yang dilaporkan awal. Perkara ini dijelaskan penganjur Miss Universe melalui akaun Twitter rasmi.

.@IAmSteveHarvey had it right: Miss Universe Philippines Gazini Ganados is the winner of the #MissUniverse2019 National Costume competition! Congratulations, Gazini.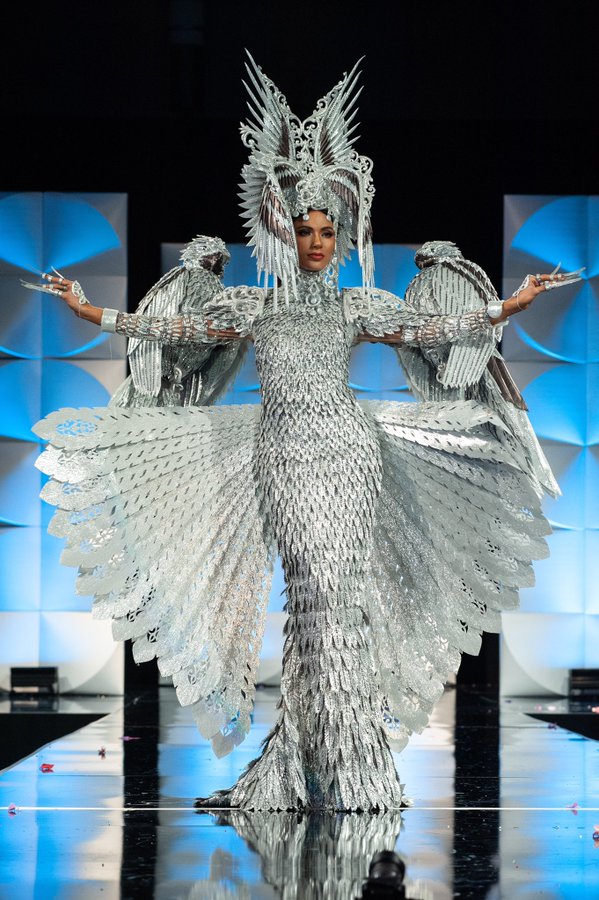 Apa pun penulis tetap bangga walaupun tidak berjaya tapi sudah berjaya mendukung nama Malaysia di pentas dunia.
sumber : wanista